High-Tech Floatation Spas
We create beautiful, easy-to-use environments for floating and healing with precise, customized plans for every project. Our Float Spas feature superb craftsmanship and customized innovative design to provide the ultimate Float Spa experience.
With over twenty years' experience and hundreds of projects completed, our reputation in designing The Float Spa is unequaled among knowledgeable and discriminating floaters. We work closely with each client to adapt our basic design to each client's personal needs for their particular site. We then construct the total environment to exacting specifications.
High-Tech has created the only "Open Room Environment™" design salt water spa. This patented design allows any size person to completely stretch out while floating, while the entire spa, including enclosure, utilizes only a minimum amount of floor space.
Our Float Spas have thermal efficiency, even radiant heating, and industrial quality to provide the most comfortable floats.
Available in 3 models:
Float Spa with Custom Enclosure
Float Spa Base Spa
Float Spa Drop-In as an economical alternative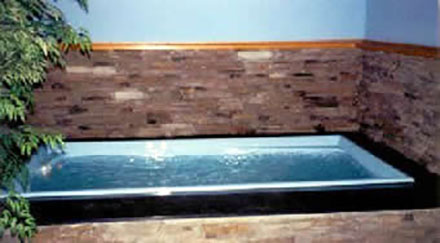 Features of the Float Spas
Thermal Efficiency
Even Radiant Heating
Industrial Quality
Easy to Maintain
High-Quality Materials
Filtration System with Ozone Purification
Lightproof, Soundproof Enclosure
In-Spa Switch System for Lights
Stereo Speakers with In-Spa Switch System
Molded-In No-Slip Bottom
Precise Plans for Every Project
One-Year Warranty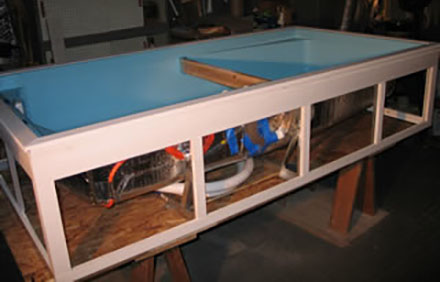 Durability and Low Maintenance
You will find that The Float Spa is extremely durable and requires low maintenance. All components have been carefully selected for quality and performance. Our industrial-quality even radiant heating system maintains water temperature within 1/10 of a degree. Our Float Spas are designed to be temperature and humidity controlled for the most comfortable floats.
Meticulous attention to every detail is evident in every aspect of each project. We test and pre-assemble everything in our workshop, so that an installation in your home or office can be swiftly accomplished and you are ready to float without delay.